Dr. Poorvi Sandesara, D.C.
Chiropractor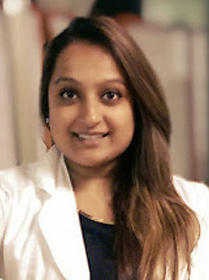 Dr. Sandesara, also known as Dr. S, was born and raised in Houston, Texas.  She prides herself on being a personable doctor who treats her patients with care and compassion.
Dr. Sandesara's quest for knowledge and genuine interest in all sciences shows by her extensive academic and work history. As a recipient of major scholarships, Dr. Sandesara earned academic honors, placement on the Dean's List and participation in the Honor's Academy.
Her impressive educational background includes undergraduate research on microbial DNA and Bachelor's degrees in Microbiology, Human Biology, and Nursing. In 2010, she achieved her Doctorate in Chiropractic. Her well-rounded background has proven to be beneficial in recognizing various health conditions and incorporating this knowledge into daily practice.
Outside of work, Dr. Sandesara enjoys spending time outdoors participating in recreational activities such as hiking, kayaking, and international traveling. She enjoys spending time with her husband, a Veteran of the Navy, her children and dogs.
Dr. Sandesara continues to broaden her resources to bring the best quality of care to her patients. She currently holds a certification as a National Medical Examiner and Webster Practitioner.