Dr. Dominic Sreshta, M.D.
Internal Medicine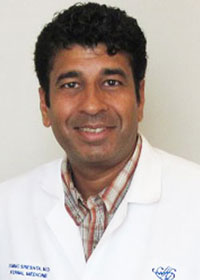 Dr. Dominic Sreshta, M.D. attended St. John's Medical College in Bangalore India. Completed residency at Yale University Bridgeport Hospital Program, Connecticut.
Completed his specialty and board certification in Internal Medicine and has a subspecialty in geriatric hospital medicine. Dr. Sreshta has privileges in multiple hospitals.